Description
Additional information
Description
Restaurant wireless table calling system 1 kitchen equipment 2 wrist watches 10 guest buzzer in 433.92mhz
Package included:
1 x Transmitter K-999 for kitchen calling
2 x Watch Wrist Receiver K-300plus for waiter
10 x Call button K-O3-WBlue for guest
(If you need more quantity or need other color button, pls inform us when you place the order. Thank you)
Application:
When customer need order food press the button on the table. The table No. will show on the screen of K-300PLUS(the watch display receiver) .Then waiter will know who's calling. Then he go to this table and write down what's they need. Waiter will take order to kitchen .When order is ready; kitchen(chef) will put number from K-999 device .Then order No. will show on the screen of K-300PLUS. Then waiter will know which's table's food is ready and go to pick up the food and take it to guest.
Specification of Transmitter K-999
1. With high strength ABS material cover
2. Using digital code technology and the function is steady and reliable
3. It can call 999 persons
4. With power on/off function
5. With Clear and Next function
6. Can work with K-236, K-300plus, K-302, K-402NR, K-2000, K-800, K-4-C, K-4-D, K-403; K-10, Y-650, K-11 receiver
Technical parameters:
Signal Range: >500m in open area
Working voltage: DC12V
Working current: <20mA
Working Frequency: 433.92mhz
Dimension:160*118*60mm
Specification of watch receiver K-300PLUS:
1. Can work with 500pcs 1-key and multi-key transmitter in max
2. Can show 3 group call number in one time
3.Show 4-digit number from 0001-9999 and first letter can be A-Z
4.Can indicate different service type via words or letter.(call;bill;drink;dessert;help;order etc and A-Z)
5. Can record when call come in and Can count the call times of each number
6.Can store 50 calls and track the history calls up and down
7.Shows current time when stand-by
8. 3 reminder ways:sound promt and vibration or both
9. Battery is rechargeable
10. Dimension:50*41*16mm
11. two display mode: live view and queue view
"live view" means, when No.1 No.2 No.3 call in turn, screen is show 0003 0002 0001. Newest call number show on the top of screen.
"queue view" means, when No.1 No.2 No.3 call in turn, screen is show 0001 0002 0003. Oldest call number show on the top of screen.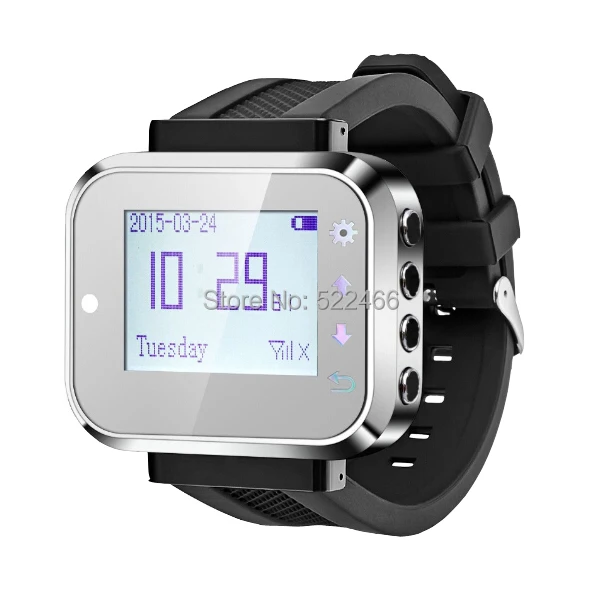 Specification of call bell K-O3
1. 100% Water-proof
2. Work with our receiver to combined the wireless calling system
3. Can be installed on each table, when the customer need help only press the button, the calling number will be shown on the screen, so everyone can easy to know who is calling.
4. 3-key button: Call;Bill;Cancel
5.Color:
3 colors white,gray ,black for case
5 color blue ;green;yellow;red;black for silicon dioxide
Technical Parameter:
Working voltage: DC12V
Working current: ≤35mA
Use Frequency: 433.92MHZ
Transmitted Power: ≤10mW
Transmitted Distance>300m in open area
Size: 60*60*22mm
Other color button for your choose: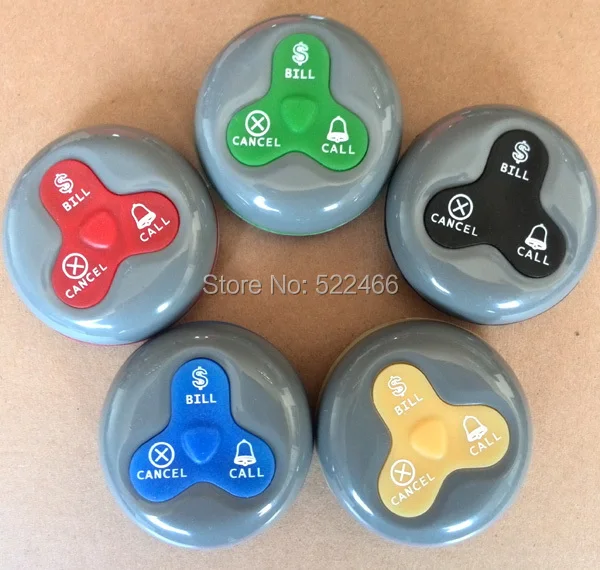 More picture of Guest call waiter & Kitchen call waiter system: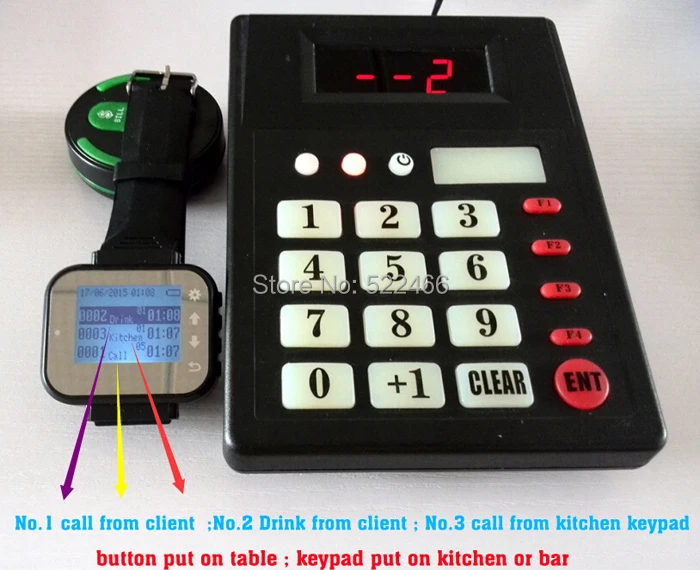 Delivery time:sample or small order within 3 days and bulk order within one week.
Payment: T/T, Western union, Escow
Warranty: 1 year
FAQ
Applications
Waiter Caller System can be used in restaurants, hotels, hospitals, tea house, coffee shops, health clubs, beauty salon, spa center, bars, swimming pool, beach, etc
What are the components of the wireless calling system?
1. Wireless receiver, installed on the count
2. Call button, installed on each table
3. Signal repeater (optional), enhance the signal
4.Acrylic Menu Holder Bord(optional)
How does the system works?
1. After your customer gets seated the waiter informs them that when they require service, all they need to do is press the button sitting on their table.
2. When the customer presses the call button on their table, their table number will appear on the receiver with ringing. Waiters then head over to the table to take the order of the customer promptly and quickly.
If you are interested in Restaurant wireless table calling system, please contact me anytime, I will reply to you in 24 hours. Thank you.
Additional information
| | |
| --- | --- |
| Certification | CE |
| Keypad size | 160*118*60mm |
| Watch type | can show 3 groups calling number one time |
| Application | Restauant bar hospital hotel factory etc |
| is_customized | Yes |
| Watch Size | 50*41*16mm |
| Button key | CALL;BILL;CANCEL |
| Model Number | K-999 K-300plus K-O3-Wblue |
| Product name | Restaurant wireless table calling system |
| Frequency | 433.92mhz |
| Range | 300-500M in open area |
| Brand Name | Ycall |