Description
Additional information
Description
Restaurant Restaurant Pager System K-2000+O3
1pcs Receiver Display K-2000; can show letter and 3-digit number
16pcs Call Button K-O3 (CALL;BILL;CANCEL)
Specification of display receiver K-2000
1. With high strength ABS plastic shell, durable in use
2. Use digital code technology and the function is steady and reliable
3. It can show letter and 3-digit number
4. It can work with 999pcs 1-key or multi-keys call buttons in max
5. Show service type via letters(c for call; b for bill; d for drink)
6. It can save 30 calling info in turn, and apply in basic service places.
7. Calling Alert: sounds or music
Technical parameters
Working voltage: DC5V 500MA
Working current: <20mA
Working Frequency: 433.92mhz
Dimension: 282*150*34mm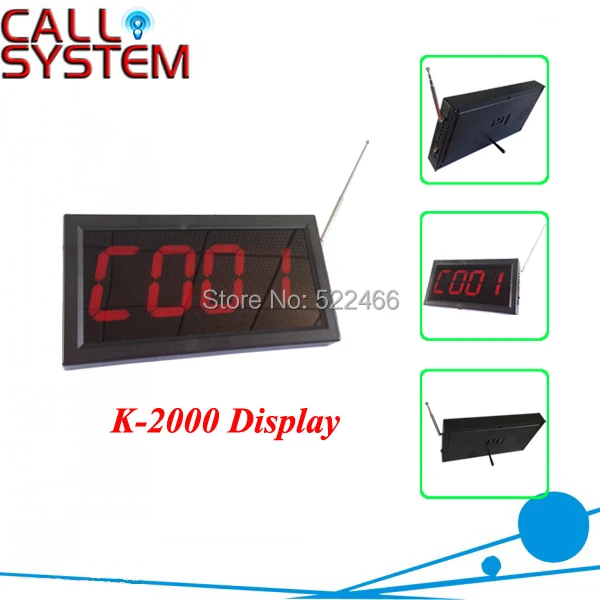 Specification of call Button K-O3
1. 100% Water-proof
2. Work with our receiver to combined the wireless calling system
3. Can be installed on each table, when the customer need help only press the button, the calling no will be shown on the screen, so everyone can easy to know who is calling.
4. 3 key button: Call, Bill, Cancel
Technical Parameter:
Working voltage: DC12V
Working current: ≤35mA
Use Frequency: 433.92mhz
Transmitted Power: ≤10mW
Transmitted Distance: >1000m in open area
Introduction of Restaurant Pager System
How to work:
It includes transmitting device and receiving device. Press the button on the transmitter, the receiver will receive the wireless signal and display (also can be with voice) which one is calling. So it is very easy used to improve service and efficiency.
Component:
Receiver:Dot matrix LED screen,LED screen,wrist pager(choose)
Remote contoller(optional)
Button:1-key button,2-key button,3-key button,4-key button(choose one or more)
Button stand(optional)
Menu holder(optional)
Pager: Alphanumeric
Signal enhancer:optional
Solution:
1)Revolutionary product to increase staff efficiency,lower labour costs.
2)Simple but elegant,value for money.
3)Improve customer appreciation of your service.
4)Provide a relaxed atmosphere.
Install and Maintain:
·Wireless products ,no wiring involved.The Display and Signal Enhancer are operated by 100-240V power supply,and the other accessories are 3AAA battery operated.
·The buttons number can be defined by the Display Setting,the button can fixed or paste on the wall or table. and the button is waterproof.
·Some of buttons any language and logo is acceptable .Welcome your OEM.
Applications:
·Tea or Coffee House
·Restaurants
·Hotel Conference Rooms
·Executive Dining Rooms
·Spas and salons
·Health and Fitness clubs
·Hospitals
·Health Clubs
·Offices
·Massage House
·Nightclubs
·Bowling Alleys
·Churches
·Casinos
·Golf and Country Clubs
Additional information
| | |
| --- | --- |
| Brand Name | Ycall |
| Model Number | K-2000 K-O3 |
| Button key | call;bill;cancel |
| Desktop | Yes |
| Range | 300-500M |
| Frequency | 433.92mhz |
| Receiver Color | All KOQI Receiver |
| Price | Competive |
| OEM | Welcome |
| Name | Restaurant Pager System |
| Application | Restauant bar hospital hotel factory etc |
| Button size | 60*60*22mm |