New Arrival Motherboard LR-i7H45T low power cpu Core i7-4500 Dual Core 1.8G with HDMI VGA Thin Mini ITX Mainboard
$230.00
Compare
Description
Additional information
Description
1. Built in with Intel Core i7-4500 Dual Core 1.8G, Max Turbo can reach 3.0G 2. 2*DDR3L SO-DIMM sockets, supporting up to 16 GB of system memory 3. Support 1.35V DDR3L 1600/1333 MHz 4. Support Dual Channel NB Memory SO-DIMM DDR3L 5. Intel HD Graphics 4500 ( i7-4500Y) 6. 1*HDMI,supporting a maximum resolution of 3400*2000 7. 1*VGA,supporting a maximum resolution of 1920*1080

LR-i7H45T
These main boards are built with low power, high speed CPU. Based on Intel Core HasWell platform with the fourth generation of i7 cpu. Mainly used in finance, education, medical, retail, hotel, one machine, advertising machine, industrial computer, digital signage, self-service terminal, security monitoring, digital HD and other fields. Support dual M-sata, WIFI, LVDS, HDMI, VGA and other super HD display
Main characteristics
Choose the low power cpu Intel Core i7-4500 Dual Core 1.8G,max turbo to 3.0G
High-speed, support up to 16GB of system memory
Built in with dual 24 bit LVDS,supporting a maximum resolution of 1920×1080, support dual display.
Support 12V input,the first choice for Advertising machine and all in one pc.
built with 2xMini-PCIE, support WIFI, support M-sata ;
Run 7x24H
1COM ,2COM.6com are optional. 6COM support RS485/422,dual lan motherboard with 6COM will be the first choice of industrial computer.
Support HDMI , DC_IN. The upgraded version can support LPT and Spdif audio.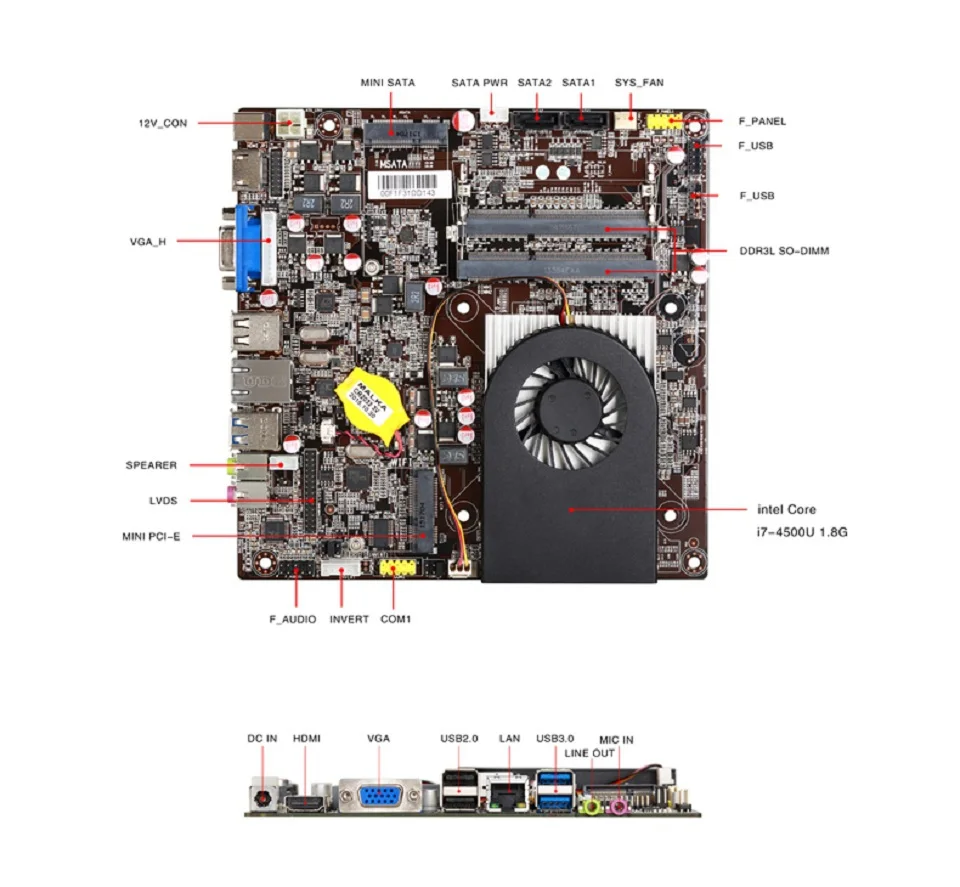 CPU
1 Built in with Intel Core i7-4500 Dual Core 1.8G, Max Turbo can reach 3.0G
Memory
2 2*DDR3L SO-DIMM sockets, supporting up to 16 GB of system memory
3 Support 1.35V DDR3L 1600/1333 MHz
4 Support Dual Channel NB Memory SO-DIMM DDR3L
Onboard Graphics
5 Intel HD Graphics 4500 ( i7-4500Y)
6 1*HDMI,supporting a maximum resolution of 3400*2000
7 1*VGA,supporting a maximum resolution of 1920*1080
Audio
8 Built in with Realtel ALC662 HD Audio Controller
9 Support High Definition Audio
10 Support 2/4/5.1 channel * To configure (Through HDMI)
LAN
11 Realtek RTL8111E LAN chips
Expansion Slots
12 2*MINI PCI Express slot (The Mini PCI Express slot conforms to PCI Express 2.0 standard, support WIFI&BT modules and mSATA card)
USB
13 2*USB 3.0
14 2*USB 2.0
15 3*USB 2.0(need to expand)
Internal I/O Connectors
16 2*MINI PCIE
17 1*F_Panel
18 1*CPU_FAN
19 1*SYS_FAN
20 2*SATA
21 1*SATA_PWR
22 1*COM
23 1*COM_SET
24 1*LVDS
25 1*LVDS_PWR
26 1*SPEAKER
27 1*ATX_12V
28 1*CLR_CMOS
29 1*VGA_H1
30 1*JHDMI1
Storage Interface
31 2*SATA 6Gb/s SSD/HDD
32 1*mSATA
Back Panel Connectors
33 1*DC_IN
34 1*HDMI
35 1*VGA
36 2*USB2.0
37 1*RJ45
38 2*USB3.0
39 1*HP_OUT
40 1*MIC_IN
BIOS
41 AMl EFI BIOS
Power Supply
42 12V adapter
Operating System
43 Support Windows 8.1/8 32-bit/64-bit
44 Support Windows 7 32-bit/64-bit
45 Support Windows ES 7/8
46 Support Windows 10
Form Factor
47 170mm*170mm
Additional information
| | |
| --- | --- |
| Chipset Manufacturer | Intel |
| Products Status | Stock |
| Graphics Card Type | Integrated |
| Application | Desktop |
| Ports | VGA,HDMI,USB 2.0,USB 3.0,Ethernet |
| With CPU | Yes |
| CPU Type | Intel |
| Form Factor | Mini-ITX |
| Item Condition | New |
| Memory Type | DDR3 |
| Model Number | LR-i7H45T |
| Brand Name | Partaker |