Description
Additional information
Description
Mcoplus 198 Bi LED Video Light Kit for Canon Nikon Pentax Olympus Digital SLR Camera
This LED light is the perfect continuous lighting solution for you video camera or DSLR with great color and warm.Soft lighting.it enhances you subject matter.It's nearly heat free.Give you a cool and comfortable shooting experience.LE 130A/168A/198A/260A/322A can adjustable light small to Maximum.Beam angles can be adjusted also LE 130B/168B/198B/260B/322B not only brightness adjusted but also.color temperature 3200K to 7500K adjusted.
Specifications:
• Special LED bulb layout design( 99pcs LED bulbs in white and 99 pcs in yellow )
• Special Appearance design
• Battery power indicator
• Brightness adjustment wheel and color temperature adjustment wheel
• High quality LED bulbs, Long lifespan
• Eco-friendly & power saving
• Multiple battery options
• 16:9 widescreen design
• Effective illumiation distance: less than 5 meters
• Color temperature: 3200K-7500K
• Lighting lasting with new batteries: 2-4 hours
• Power source: 6 AA batteries, or for Panasonic CGR-D16S/D54S , or for Sony (NP-F970, NP-F750, NP-F550) ,for Nikon EN-EL15,for Canon LP-E6 rechargeable lithium battery etc.
Function and Operation
1.Bbrightness Control
The all LED light models have brightness adjust function.it can be control the level of brightness by rotating the brightness adjustment wheel.turn to the right to increase brightness,turn left to decrease brightness until the light turns off.
2.Color temperature control(LE-130B/168B/198B/260B/322B)
The LED light B model can control color temperature by rotating the color temperature adjustment wheel.turn to the right to decrease the color temperature.Range from 3200K to 7500K.
3.Battery power test
Please turn off the LED light when pressing the test button.there are four indicators on the back of the LED
4.Mutiple light combinations
There are 4extension slots different sides of LED video light.customer can combine the lights together to achieve some effect.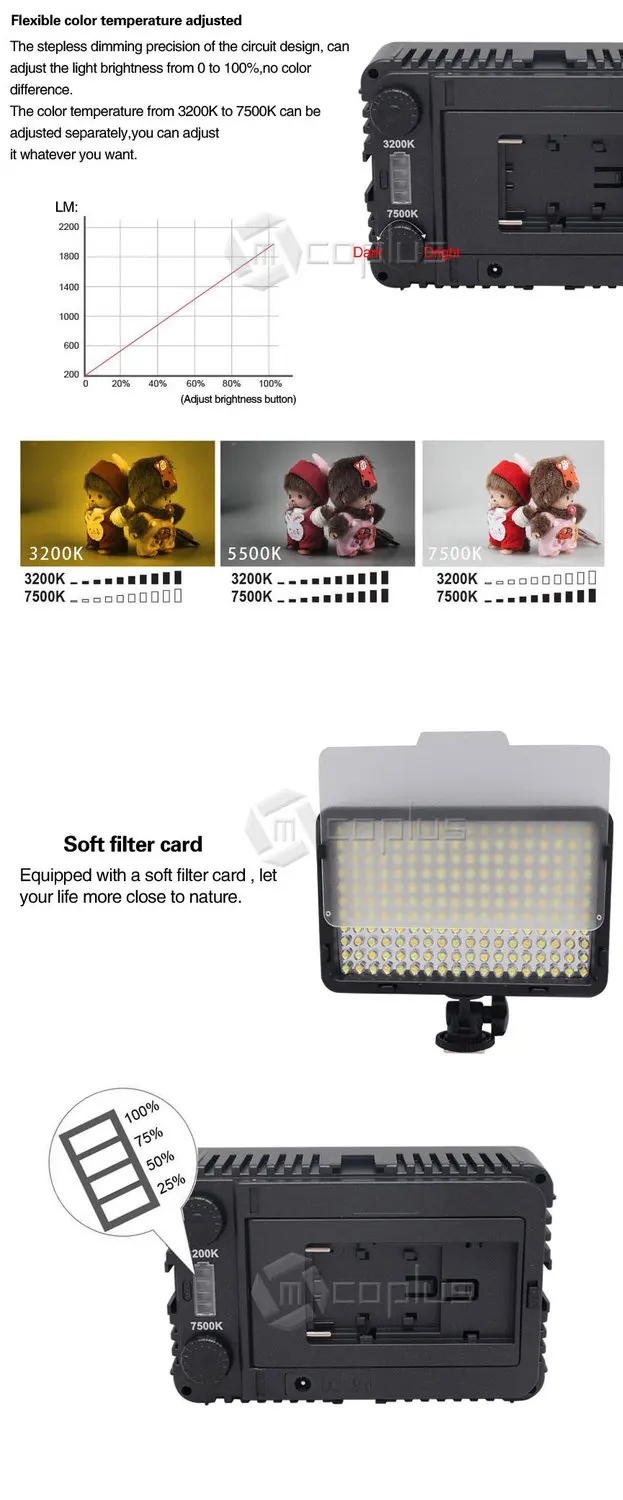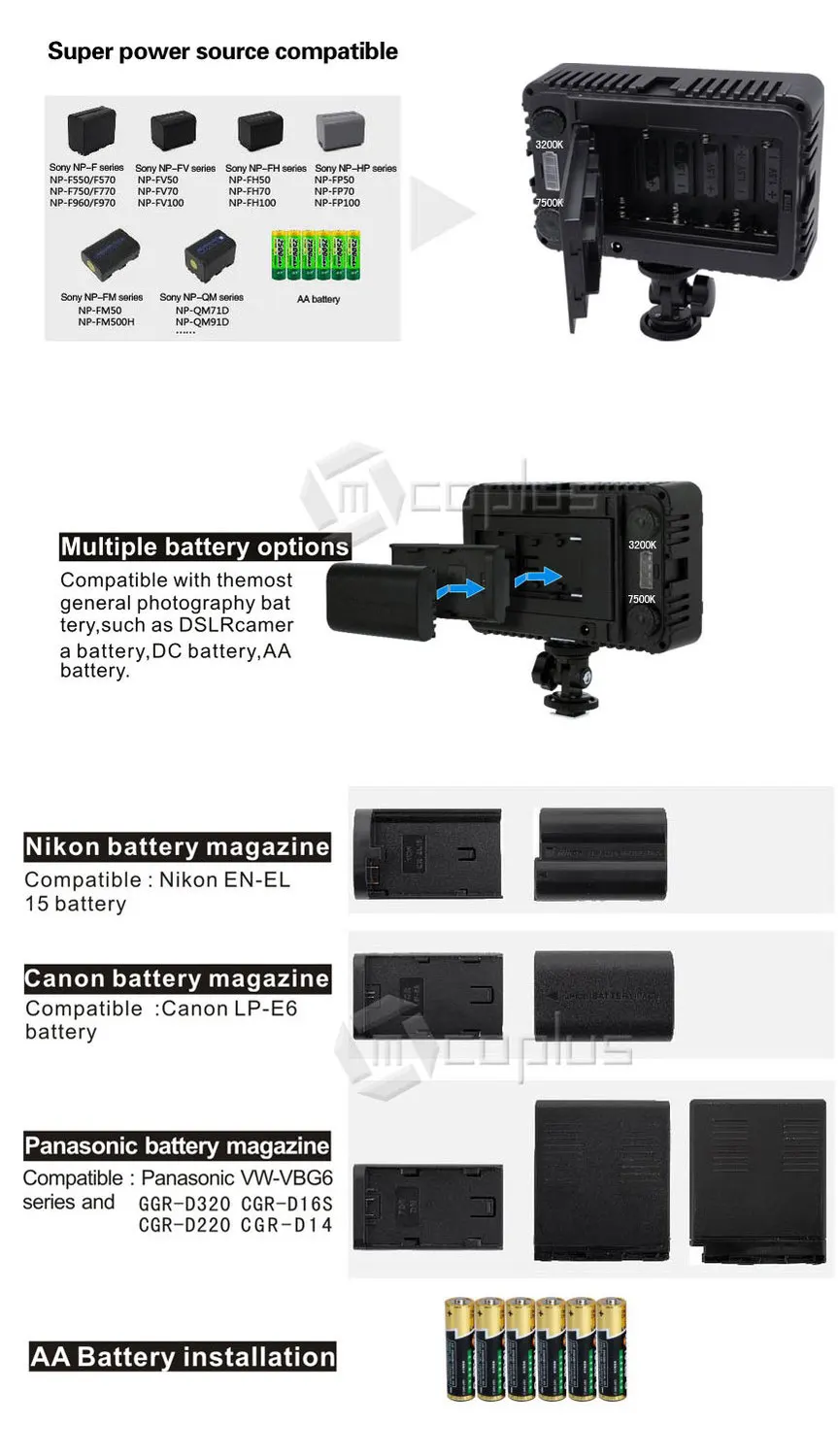 Package Included:
LED Video Light x1
Soft Diffuser x1
Stand for Camera Flashlight x1
User Manual x1
Additional information
| | |
| --- | --- |
| Correlated Color Temperature(CCT) | 3200K-7500k |
| Working Voltage | 5.5V~9V |
| Dimension | 143mm(L)x93mm(W)x52mm(H) |
| is_customized | Yes |
| Color Rendering Index(Ra) | 85% |
| Power Variation | 0-100% |
| Package | Yes |
| LED Quantity | 198pcs |
| Light beam Angle | 65° |
| Llluminance | 1020LM |
| Brand Name | Mcoplus |