Hot Google Cardboard 3D HD virtual reality Glasses Games VR Headset For 4.7-6.0 inch Smartphones add 4.0 Bluetooth controller
$41.05
Compare
Description
Additional information
Description
Strong while economic transportation package
If you are not going to resell or send the product as gift to others,you are suggested to buy the product in air-filled column bag as illustrated on the picture so as to save shipping cost for you. Please click on the image below
Retail Package of brown box
If you are going to resell or send the product as a gift to others, you are highly recommended to order the product in retail package as illustrated on the picture.
Please click on the image below
Hot Google Cardboard 3D HD virtual reality Glasses Games VR Headset For 4.7-6.0 inch Smartphones add 4.0 Bluetooth controller

What is VR(Virtual Reality) glasses VR head is the use of simulation technology and computer graphics man-machine interface technology, multi-media technology, sensor technology, network technology and other technology collection of products, namely, VR head display, Is through the computer And the latest sensor technology to create a new means of human-computer interaction. Virtual reality glasses VR head display device is a cross-era products. Not only for each enthusiast with a surprise and joy to experience, but also because of its birth and prospects of the unknown and deeply fascinated. Virtual reality is the use of computer simulation to create a three-dimensional virtual world, providing users on the visual, auditory, tactile and other senses of the simulation, so that users as immersive in general, can be timely and unrestricted observation of three-dimensional space thing. Product Features Application market Providing massive VR video, cool VR games, stunning panoramic video, allowing users to experience the real virtual world. Private cinema Enjoy the IMAX-level viewing experience, 3D movies in the eyes, bring immersion experience. Gaming experience People exposure to the game, into the game world, meet the higher and more realistic. AVR fellow card 2-dimensional elements in the three-dimensional reality, zero distance contact with the second element, breaking AR, enhanced VR, 3D virtual more real. Person card interactive features Finger operation to achieve a variety of posture free conversion. Movie companion function A variety of cartoon characters accompany you to watch movies VR BOX bring you wonderful experience of watching movies and playing games
Materials: Uses ABS and 42mm spherical resin lens material without stimulation plastic sheet, environmental
Offers you super 3D picture effect and wonderful feeling
Simulating viewing distance: Offer you a 1000 inches big screen at the distance of 3m
Easy to put your smart phone into the 3D glasses ( Easily pull the smart phone storage box out, the put your smart phone in it )
Perfectly suitable your face when you wear the VR BOX 3D Glasses
Flexible and adjustable headband is suitable for different people
You will not feel visual fatigue and dizzy even you use it for a long time because of the resin lens
Adjustable pupil distance and sight distance, satisfying different groups of people, optical Axis Sliding control function, You can slightly adjust the position of the spherical resin lens through moving, the button on the top of the VR BOX 3D Glasses. so as to get a better experience of watching movies
Greatly enjoy a private visual feast comfortably and convenient to use, allowing you watch at anytime anywhere whether sitting, lying or standing as you like, no need any software, it is a great companion for traveling or staying house
Suitable for almost all kinds of smart phones ( Android / IOS, etc) that screen between 3.5 – 6.0 inches
Both sides holes of the VR BOX 3D Glasses is specially designed for the headset / data / charge cable, letting you charge your smart phone ( You had better not charge your phone during enjoying movies )
With compact portable design, easy to carry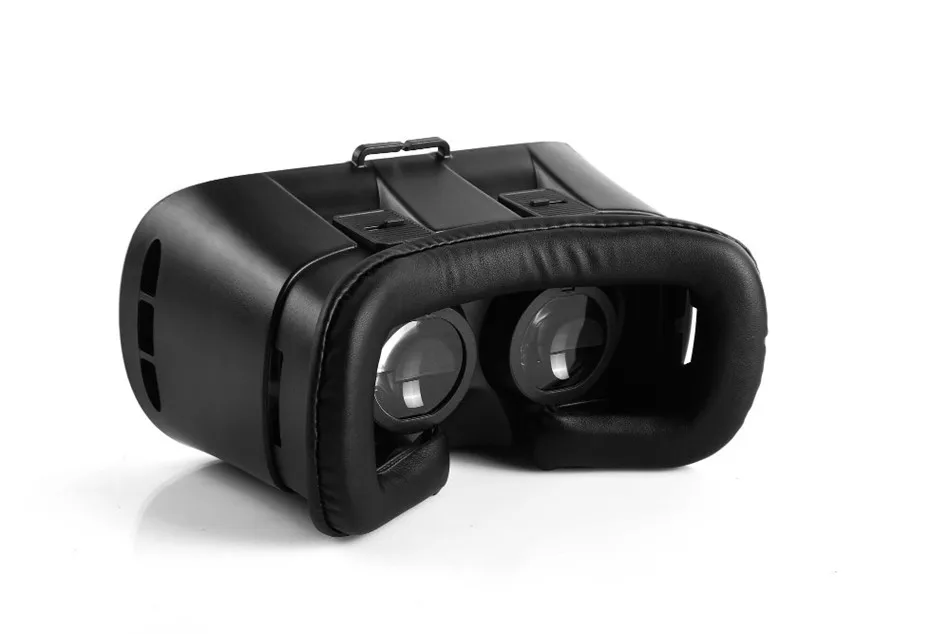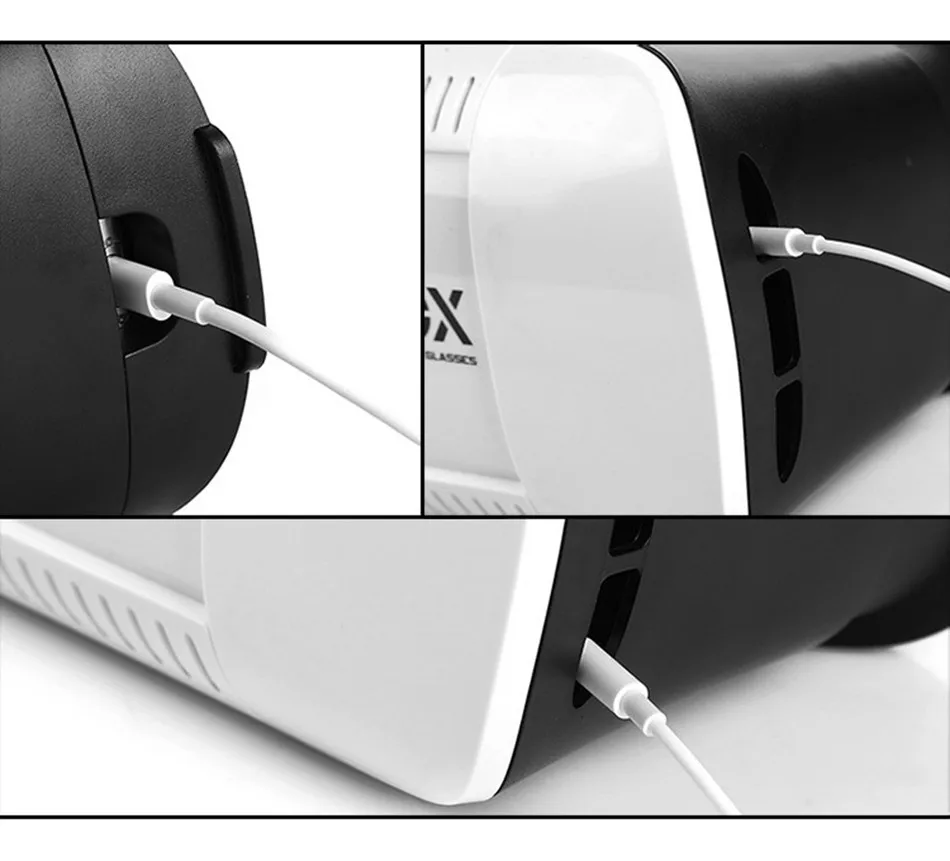 VR Glasses Type: VR3D Glasses Smartphone: compatible Colour: Black Smartphone compatibility: 4 – 6.0 inches Model: ST-VR-YK-11 Viewing angle: 150 – 170 ° Phone system: Applie IOS, Android Lens: Aspheric optical lens D42mm high transmittance of nano-coating technology Shell material: ABS Buffering material: high-grade environmental cortex + non-toxic environmental sponge Wearing material: elastic nylon belt Product size: 170 * 120 * 105mm Product weight: 330g Package Contents 1:( VR Glasses Only ) 1 x VR 3D glasses 1 x User manual 1 x Foam pad 1 x Exquisite gift
Package Contents 2:( VR Glasses with Bluetooth Remote Controller )
1 x VR 3D glasses 1 x User manual 1 x Foam pad 1 x Bluetooth remote controller(Batteries not included)
1 x Exquisite gift
How can I use this 3D VR Glasses?
Method 1: Download Cardboard from Google Play Store or iTunes App Store.
Method 2: Download 3D Videos (left-right format) into your phone, play it directly
Method 3: Download Kodi to your phone, watch online streaming videos in 3D
Method 4: If you understand Chinese, you can use the official App.or you can contact us for how to get a lot of Apps for both IOS and Android.
NOTE: The official QR Code is for Chinese APP, if you need more APP or Games, please send us your order number. thanks
How To get more Apps?
Step 1: Send us your order number and Email address to us by Order message. Step 2: Please confirmed delivery and leave us 5 stars feedback. Step 3: We will guide you to get hundreds of Apps for Android and IOS phones. and we will also keep you update for more new Apps in future .
1 Q: Is this a standalone unit, or does it require a smartphone to work?
A: It requires a smartphone to work
2 Q: I wear glasses. Is that a problem?
A: You can wear glasses and have no problem putting this on over them. Also you can adjust the lenses. If you are finding with your Myopia, You don't even need my glasses on.
3 Q: Will this work only with a phone? Can it be connected to a computer and used that way?
A: No, only smartphone
4 Q: How do you play games with this?
A: You can use blue tooth controller which is included.
5 Q: Can you wear headphones with this?
A: Yes, there is a hole where you can plug in for headphones
6 Q: What's the resolution of the VR Box?
A: It uses your phones display, so the same as that. It really depends on the game or app you are playing or using.
7 Q: Can you use the VR Box with your phone inside of a case?
A: No. The fit is pretty tight, so you'll have to remove the case each time you use the VR Box. A minor inconvenience, but worth it.
8 Q: What is it?
A: It's an attachment for smart phone that allows you to view things in a 3D VR style
9 Q: Will youtube work on this?
A: Yes
10 Q: Does it have a headphone jack? Or does the audio come through the phone speakers?
A: It does not have a jack. Audio comes through the phone speakers or headphones (either wired or bluetooth)
11 Q: Are there built in speakers?
A: Nope. I would recommend Bluetooth speakers or headphones.
12 Q: Does this use data or can you use your own video?
A: No it doesn't use your data far as the headset but the apps you download on your phone from the App Store use your data and yes you can put videos and movies on your phone and watch them from the headset go to youtube and they give you instructions on how to download your movies and video to your phone to watch on your headset this is a fantastic piece of equipment I love it hope you enjoy it too, I know you will enjoy it.
13 Q: Where is the content downloaded to?
A: The phone or the VR Box itself? All contents are downloadwd to the phone
We ship to Worldwide, except some countries and APO/FPO.
Orders will be processed timely after the payment verification.
Please make sure your order address matches your shipping address. We only ship to the confirmed order address. If your registered address is different from your shipping address, please provide us detailed shipping address when you place your order.
Goods delivery time is subject to logistic provider and excludes weekends & holidays. Goods delivery time may vary, particularly during the holiday season.
All the goods are shipped with registered tracking number.
We ship each item in accordance with the promised delivery date.
In order to reduce customers tariff charges and other charge of fees, we declare gift instead of the actual product name for some countries.
It is buyers responsibility to clear customs, pay import duty, VAT and other charge of fees. The customer needs to pay RAS ( Remote Area Surcharge ) for commercial express service such as DHL, Fedex and UPS etc when applicable.
All parcels shipped by Airmail are limited weight within 2kgs. If the order weight is more than 2kgs, we will ship your parcel by two tracking numbers.
As per rule of Russian Post, full name ( first name, father\'s name and surname ) of the addressee must be provided
We are not responsible for delays caused by the customs, import duties, taxes and other customs charges.
We accept drop shipping, for details please contact our sales persons.
Products with quality-related issues could be returned for an exchange or refund by contacting our sales within 7 days upon receipt of the goods. The returned shipping cost is shared by both seller and buyer in half. If you keep the products more than 7 days, it is regarded used. We will not accept refund or replacement.
Before return please contact our sales first, advise us your order number and the specific reason for return. All returned items must be in the original package and you must provide us with returned tracking number.
If your item was damaged during shipping, you could contact our sales for refund. When you request refund, please provide us photographs or video clearly showing the problem with the item and its tracking number as soon as possible. Please also provide the Proof of Damage document from the courier. Alternatively, you could open the item package in front of the delivery person. If the item was damaged during shipping, you can reject to sign it, contact us saying you rejected the package. We will then ship you a new item as soon as possible.
We strive for 100% customer satisfaction, customers feedback is of the most importance.
If you are satisfied with our products and service, please give us positive feedback and good comments after you received the item, which will make us more confident to develop business and serve you better.
If you have any questions or problems, please do contact us immediately before you give us neutral or negative feedback. We will try our best to solve the problems and make you satisfied.
Regarding how to revise your feedback from positive or neutral to positive, you may refer to How do I revise feedback? at help centre of .
Additional information
| | |
| --- | --- |
| Base Stations | No |
| All-in-one Virtual Reality Glasses | No |
| oculos vr | VR Headset |
| virtual glasses | virtual reality Glasses |
| 3d glasses virtual reality | virtual reality |
| google cardboard | 3D |
| cardboard | Google Cardboard |
| Wireless network Type | WIFI |
| Model Number | ST-VR-YK-11 |
| FOV | 180 |
| Package | Yes |
| Gesture Recognition | No |
| Real-time Map Construction | No |
| Type | Binocular |
| Sensor Type | no |
| Compatible Device | Smartphones |
| Viewing Experience | Immersive |
| Controllers | No |
| Ports | External |
| 3D Glasses Type | Virtual Reality |
| Glasses Type | 3D Glasses |