EAGET V80 Official 32G Smartphone USB 3.0 Flash Drive Pen Drive Micro USB otg usb stick Portable Memory Double Plug
$20.83
Compare
Description
Additional information
Description
EAGET V80 Official 32G Smartphone USB 3.0 Flash Drive Pen Drive Micro USB otg usb stick Portable Memory Double Plug

Item specifics:
Brand Name:Eaget
Capacity:32G
Read Rate: up to 40MB/S
Write Rate: up to 20MB/S
Interface: USB3.0 & Micro USB
Size: 34.7 x 18 x 6.8mm
Net Weight: 10g /0.35oz
Style:Rectangle
Material:Metal
Package:Yes
Features:
Easy to read and read in high speed
Have two interface, both phones and computers can be connected
Small size, very portable
Convenient to take, easy to use
Small compact design,shock resistance
Original A class flash chip
Built-in the latest AES-256Bit encryption
No drive needed, only plug it into port for the USB flash drive
Capacity is 100% real. You can use H2testw to test.
Package: One usb flash drives only
Note: To avoid data loss or mechanical damage, do not power down
your computer or unplug flash disk during transfer

EAGET Official Licensed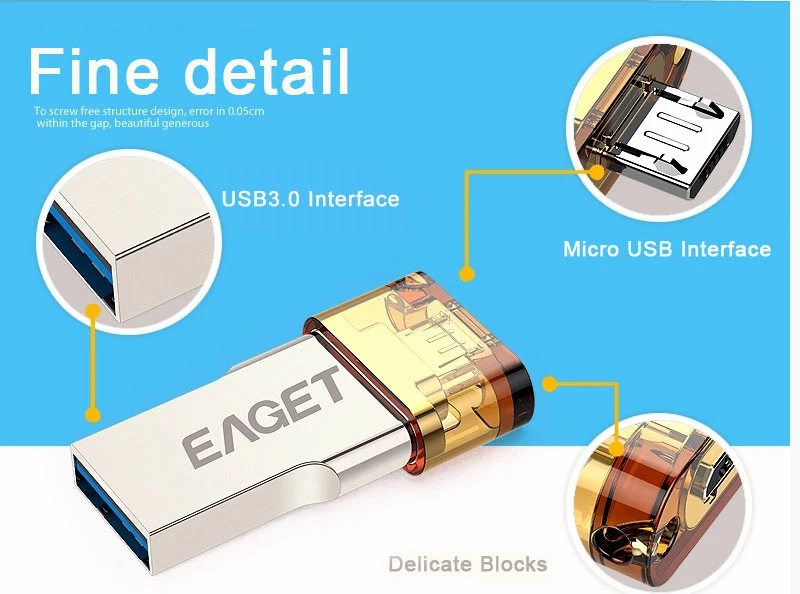 We think highly of the fine details of the design.
· Cap-less Swivel Design: The integrated swivel cap offers additional protection and allows
users to use and storewith just a thumb push, and avoids annoying cap-loss problems.


Eaget V80 has USB3.0 interface, it is easy to read and read in high speed .


EAGET V80 have two different interface: USB3.0 & Micro USB
It can allows you to move and copy files or pictures between your Android device and
your desktop/notebook PC without using a bulky cable.

UNIBODY DESIGN:Waterproof/Dustproof/Anti-magnetic/Anti-static/High Temperature Resistant
Your data and files are important to us.
V80 ensures great durability and offers high protection for the drive body,
promising complete resistance to water, dust and vibration.

Have you been bothered about the situation that your cellphone is not enough memory?
V80 OTG Flash Drive-dramatically can increase your device's storage, never worry about the memory.
USB for PC: For easy transfer of files between smartphones, tablets and computers
Micro USB: Compatible with Android tablet or smartphone with a micro-USB connector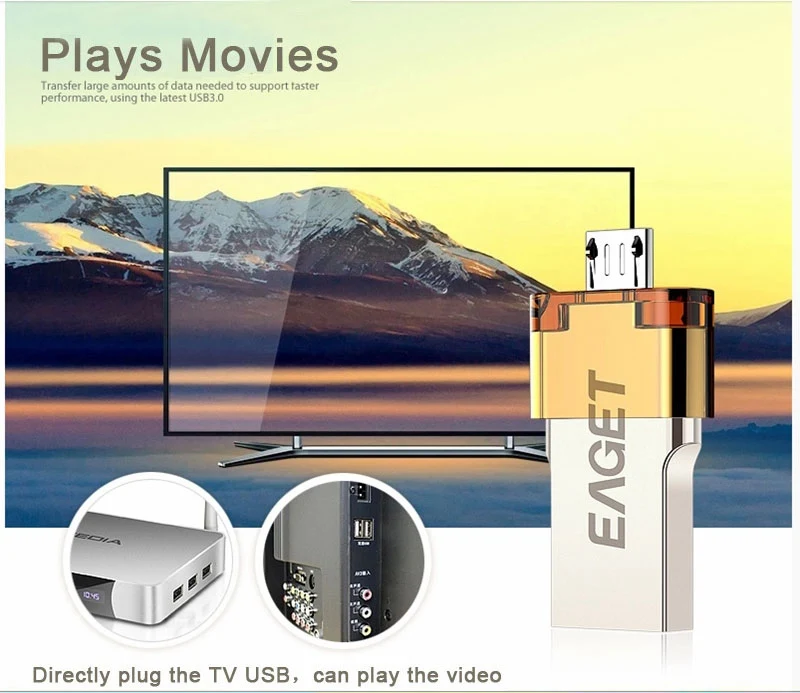 Transfer large amounts of data needed to support smoother performance
Plug into the USB port of your set top box or TV to play videos in your flash drive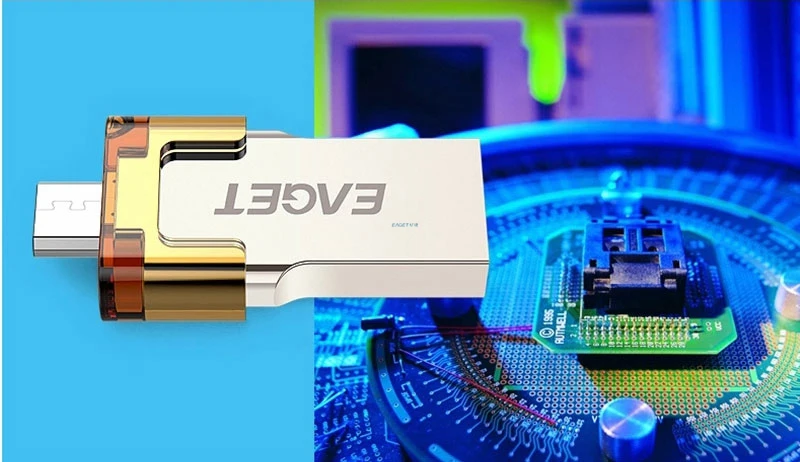 Easy Storage: Store your favorite photo / video / music files on the Smartphone USB
and enjoy them on your smartphone or tablet.
Easy Sharing: Smartphone USB makes sharing photos and videos between two smartphones quick and easy.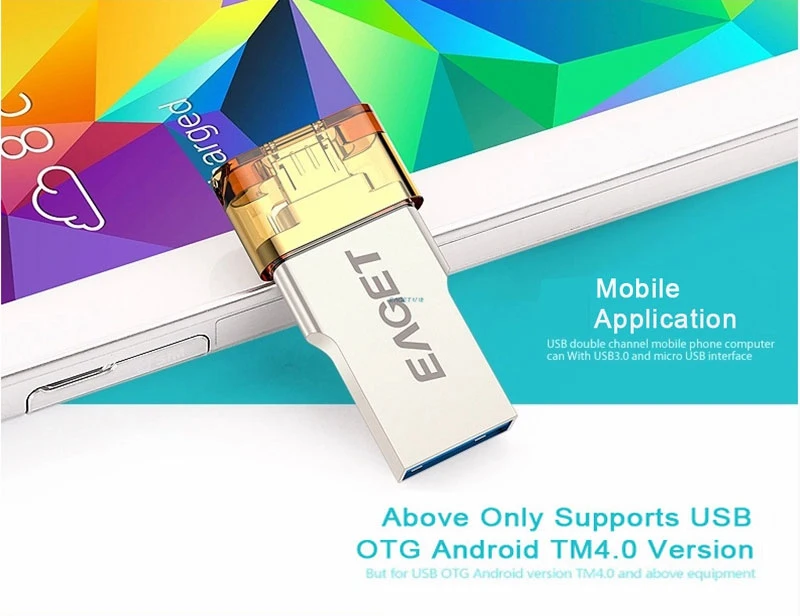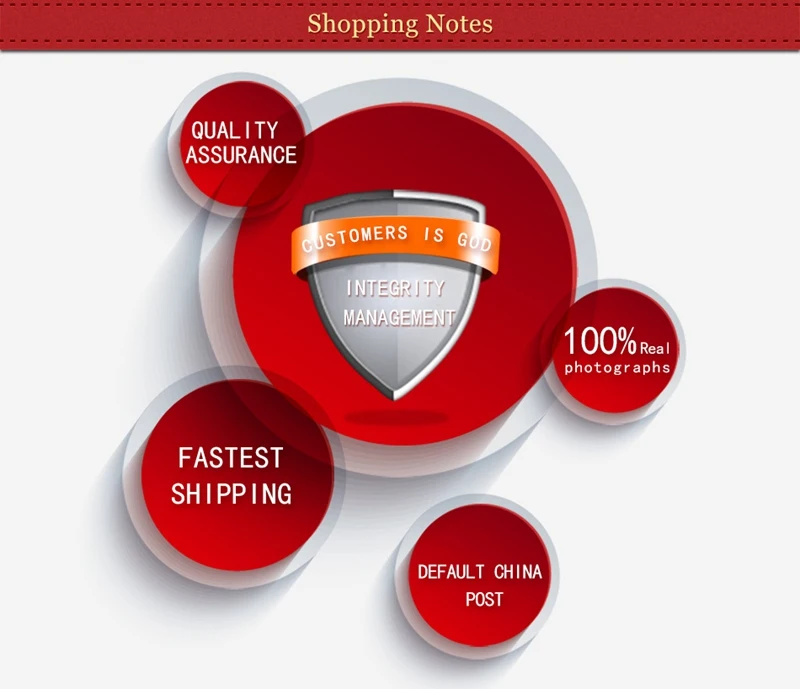 Additional information
| | |
| --- | --- |
| Package | Yes |
| Style | Rectangle |
| Encryption | Yes |
| Interface Type | USB 3.0 |
| Time to market | May-13 |
| Material | Metal |
| Products Status | Stock |
| Product Weight | 38g |
| Product Type | Flash Disk |
| Brand Name | Eaget |