Description
Additional information
Description
Assembled J-head hotend reprap 3d printer extruder 0.3/0.35/0.4/0.5mm nozzle 1.75mm/ 3mm feed inlet diameter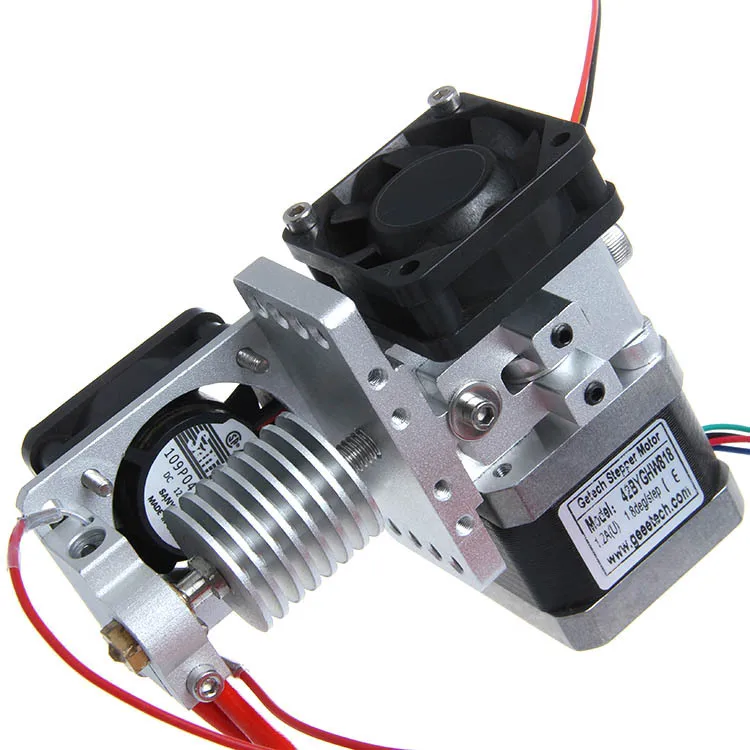 Description:
This product adopts high-quality aluminum alloy heat radiator and brass nozzle, with stainless steel pipe as feeding pipe, which ensures good heat insulation effect and prevents blockage. Its surface is covered with anodic oxide coating, which can resist oxidation corrosion and increase nozzle hardness and surface area of heat radiator. Besides, the cooling fan directly faces to operation area. All such special designs ensure better heat insulation as well as finer and more stable printing.
Specifications
Material: metal
Suitable raw material: PLA and ABS
Printing resolution: 0.1mm
Molding form: FDM
Printing thickness: 0.1mm-0.3mm
Nozzle temperature: 180-260
Movement speed: 50cc
Outline dimensions: 85*53*119 mm (L/W/H)
Weight: 525g
Input voltage: default to 12V
Flow rate in nozzle: about 24cc/h
Nozzle: 0.3/0.35/0.4/0.5mm
Printing material: 1.75mm/3mm ABS or PLA
Cooling fan: operating voltage defaulted to 12V
Heating voltage of extruding head: 12V
Thermistor: 100K 1% high-precision NTC Thermistor
Note:Please leave us your message about which Nozzle diameter and Feed inlet diameter size you need when you order.
Otherwise we will ship the 0.3mm Nozzle and 1.75mm Feed inlet diameter as default
Package list:
Short distance extruder GT9
Additional information
| | |
| --- | --- |
| item | 3d printer filament extruder GT9S |
| Thermistor | 100K 1% high-precision NTC Thermistor |
| Hotend | metal hotend |
| is_customized | Yes |
| Can be used to | reprap 3d printer |
| distance | GT9 short distance extruder |
| material | all metal |
| product name | 3d printer extruder |
| E3D nozzle size | 0.3/0.35/0.4/0.5mm for extruder nozzle |
| Feed inlet diameter | 1.75mm/ 3mm for extruder filament |
| Model Number | GT9 Extruder |